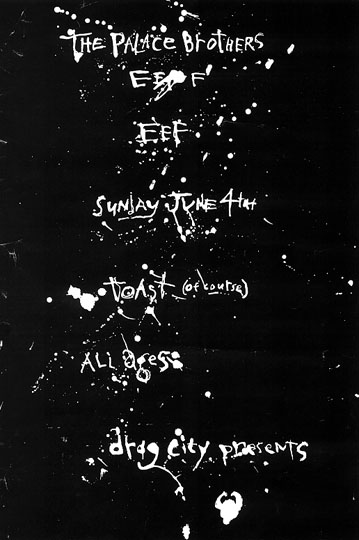 Not now but 10 years ago. In 1995, Will Oldham and his latest iteration of Palace played at Club Toast in Burlington and the guy from Bradley's Almanac was there to record it off the soundboard. The guy even saved the poster from the show. He's an amazing archivist but I wouldn't ever want to help the guy move.

The sound quality is very good although it isn't the most rousing performance by the band. On the upside, the set list has a lot of tunes from the lo-fi beauty Viva Last Blues. Each tune can be downloaded as a separate tune. However, Bradley doesn't keep the files up there forever so if you want these tunes, you should act sooner than later.

My favorite track is "Untitled" but mainly because that song always kills me. I'm a huge sucker for it. The Liam Hayes cover is a nice tune too.

By the way, according to the comments on Bradley's Almanac, Palace played another show in Burlington in October 1995 that turned into a complete train wreck (including Oldham flipping off the crowd). This isn't that show. It's the earlier one in June.

On a related note, Will Oldham (as Bonnie 'Prince' Billy) has a live album called Summer in the Southeast due in stores on Nov. 15th. It's recordings from various shows he played in small towns across the south in early 2004.