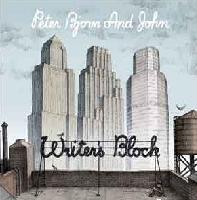 I haven't heard Swedish pop trio Peter Bjorn and John's new album Writer's Block yet but I like their previous stuff and two songs I've found on other blogs. However, my curiousity in the upcoming album has peaked now that I've read a review of the album on Dusted written by Seven Days' Casey Rea.


Musically, PB&J dip their fingers into three decades worth of pop like preschoolers with fingerpaints. The band freely mixes melodies and textures, ranging from the Zombies to shoegaze. Arrangements are kept simple, as not to detract from the always-cordial lyrics. The finest song on Writer's Block is its single, "Young Folks," which features a spot of whistling and a terrific guest vocal from Victoria Bergsman (the former Concrete), who sounds both detached and romantically willing. The tune's frisky bassline and '60s-style bongos make for a cheeky slice of urban sentimentality.
Sounds good to me. Now the question is "When will it be added to eMusic?"
Peter Bjorn and John |
Young Folks
|
Buy
Peter Bjorn and John |
Amsterdam
|
Buy