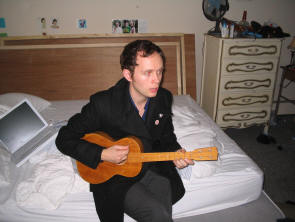 Offsetting my happiness for the news of the Silver Jews tour and the mad ravings of a bunch of teenage drummers, has been the news that the Swedish King of Pop, Jens Lekman, is taking a break from the music business.

Apparently, he's burned out on touring and unhappy with the songs he has recorded for his next album. The burn-out is understandable. He just completed 200 shows during a world tour (including a stop in Bennington in October). That would be enough to crush the spirit of most people. Here's what he's saying about it:


"Tomorrow I will start looking for a job," Lekman wrote, "maybe I'll be a telephone interviewer again... at least that's what I've been telling the customs when they ask what my profession is. The recordings I've been working on have been put on the shelf. I am not happy with them and so I can't say that there's a new record on its way. I actually can't say that there's ever gonna be a new record at all. Although deep inside I know that as long as there's a heart in this chest there will be new songs..."

"I think it's necessary. It doesn't take a psychologist to tell me that I need a break after 200 shows. I love the shows," he admits, "but it's 22 hours of pure misery and then two hours of being euphoric."
At least it doesn't sound like his trip to Vermont was the culprit of his misery. This is what he wrote in
his blog
regarding the show:
Oct 13th - Bennington

This is the first time I've been to an artschool college party. I've seen stuff like this in movies, I never realised it was even crazier in real life. Everytime you'd open a door to a new room there was something weird and / or illegal going on. Those kids were so drunk or stoned. A guy named Tony , who called himself Stoney, came up to Honeydrips-Mikael and asked him "is there a swedish word for the pain of living?". The show was great though, so many people dancing and jumping around. And we sure picked the right time to go to Vermont. All those colours of the fall, they made me happy.
I'm guessing that after a good long break, Lekman will be back and we'll eventually hear those songs he's recorded. They'll either appear as the next album or as a future "rareties" release. The guy just needs some space for a while.
In the meantime, we have a few great concert videos to enjoy courtesy the Italian blog,
Low Noise
. The videos come from a DVD called Live in Gothenburg 2003. There are five videos to enjoy on the blog but here are links to my two favorite. The videos are large files and load slowly. So, be patient.
Video - Jens Lekman - Maple Leaves (unfortunately, the links for both videos are now gone)
Video - Jens Lekman - Black Cab